Spring 2023 Market Report: Stepping into spring
Posted on: Friday, March 17, 2023
---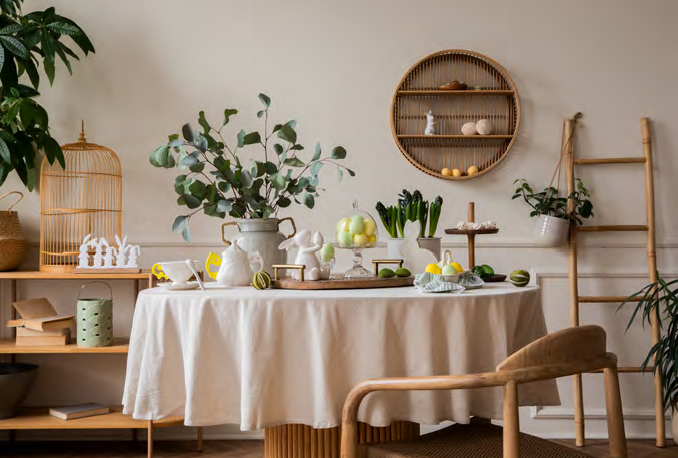 ---
Despite the brake on house-price growth, the market, as well as economic outlook, is showing tentative green shoots as we head towards spring.
Mortgage matters
There has been a welcome fall in mortgage rates, with rates of below 4% for lower loan-to-value mortgages. Typical costs of a two-year deal and five-year fixed-rate mortgage have fallen back to where they were in October 2022, in spite of the Bank of England Bank Rate rising by 1.75% during this period. There has also been a rise in the number of mortgage products, with over 4,000 different products now available. The number of days a product is available before it is withdrawn has also increased, now at 28 days, up from just 15 days in January, the highest level since March 2022 (Zoopla).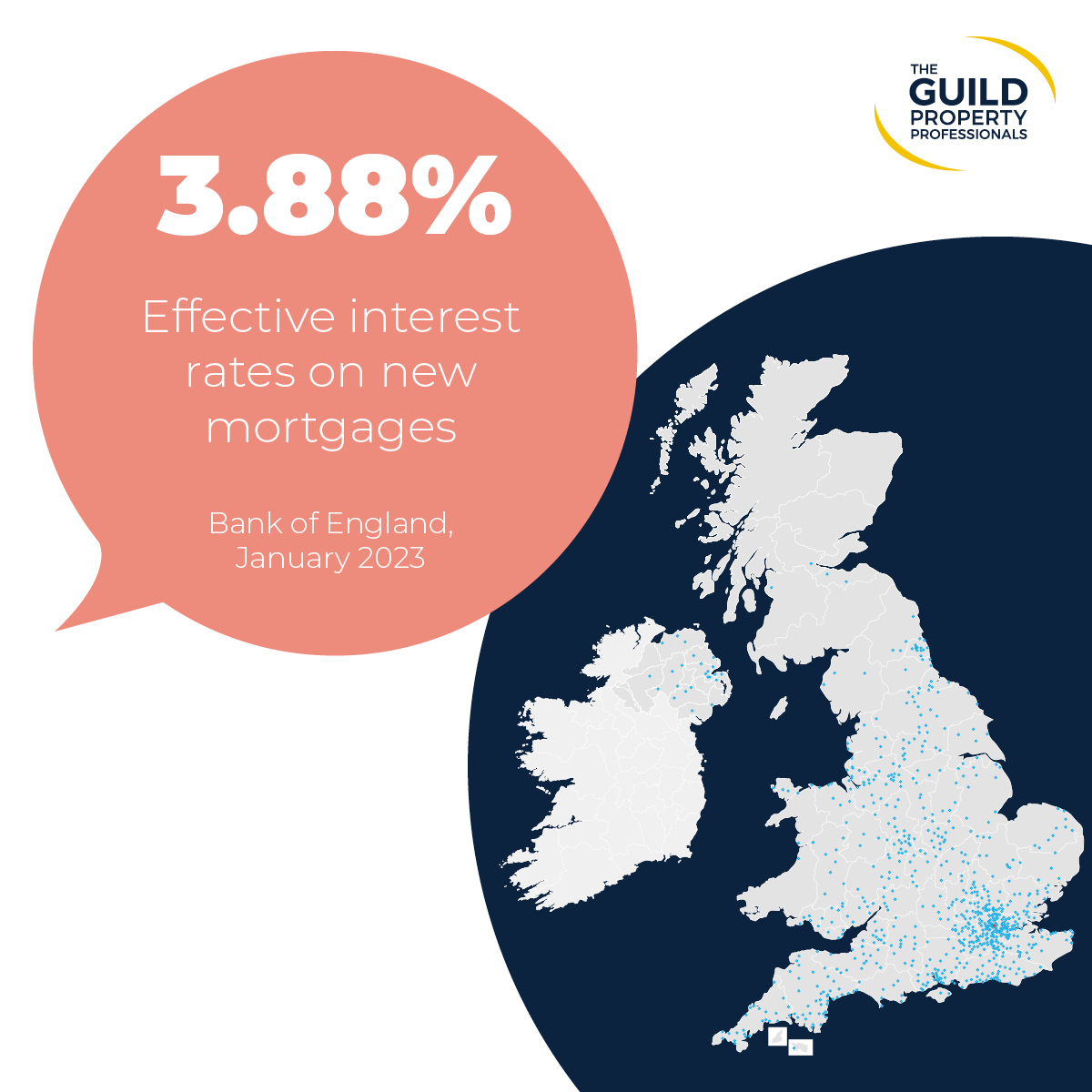 Outlook
The housing market and economy are closely interlinked, and despite the rising cost of living, the rate of inflation has slowed and is expected to fall back over the course of the year. Employment levels remain strong, GDP forecasts are improving and any recession is
expected to be less severe than first predicted. Prices are softening but many sellers continue to be over-optimistic on price. With supply returning to more normal levels, up 60% compared to a year ago, there is more choice for prospective purchasers and Zoopla report the average discount to asking price is currently 4.5%.
Consumer confidence
The Bank of England announced that mortgage approvals in January had fallen to their lowest level since May 2020. However, there are more recent signs of improvement. Zoopla report that buyer demand is up 8% on the pre-pandemic years (2017–2019), while the latest survey of UK consumer confidence undertaken by GfK registered a +7 uptick in February. This represents the largest monthly improvement in nearly two years. Although still dented, confidence in the UK's economic outlook and personal finances over the next 12 months registered a month-on-month rise of +11 and +9 points respectively.
Signs of easing
Price growth in the rental sector is expected to continue in 2023. However, there are tentative indications that competition between renters, which has underpinned the record rental rises, is beginning to relent. Rightmove report that competition between renters for available properties has dropped by 6% compared with the same time last year, and a third compared with September's peak. However, the imbalance between supply and demand remains high. The number of available homes to rent in the final quarter of 2022 was up 13%, while new-to-themarket properties are up 5% (Rightmove).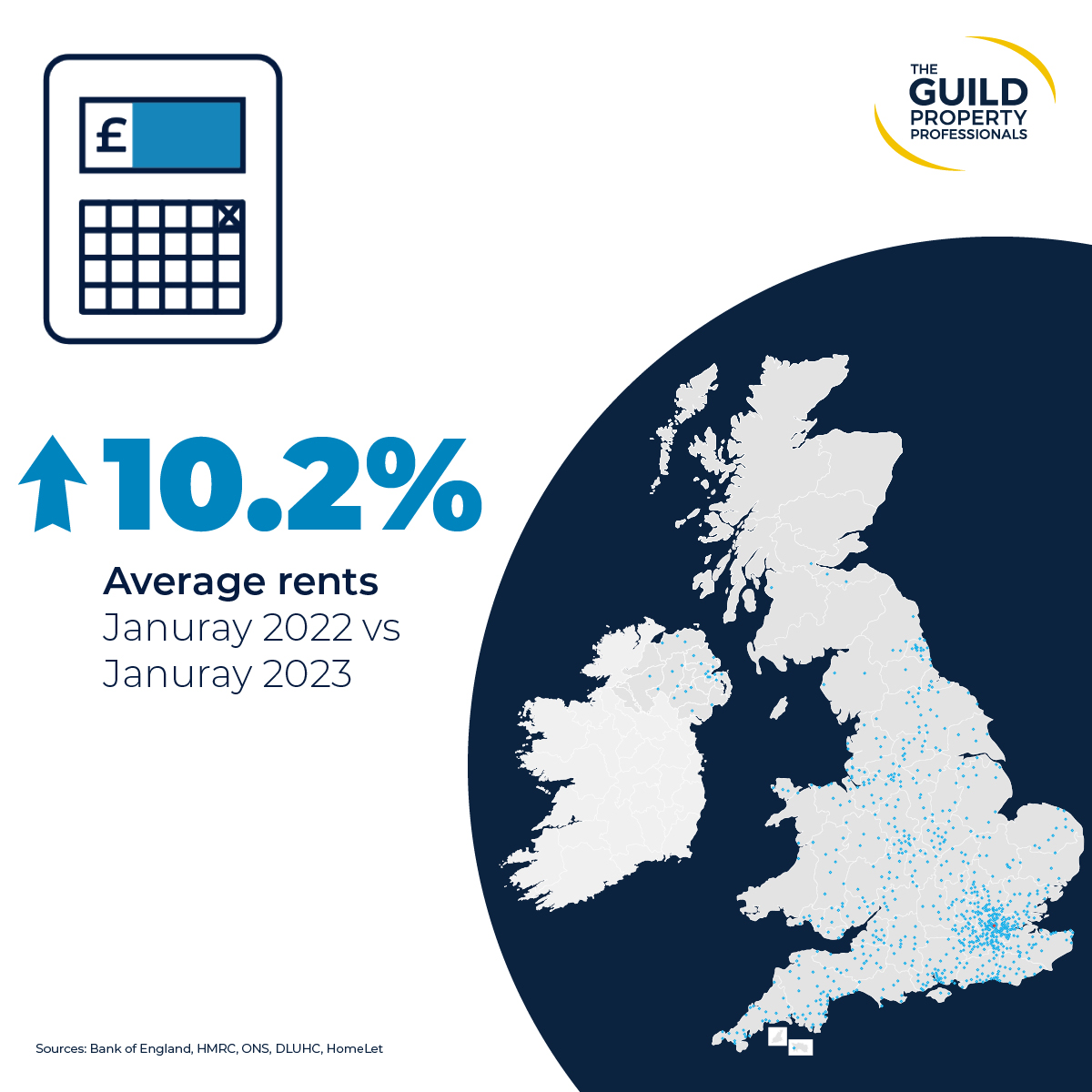 Regional Reports
Browse our Regional Market Reports:
● Market Report 2023 Spring East Midlands
● Market Report 2023 Spring Essex, Norfolk and Suffolk
● Market Report 2023 Spring Hertfordshire, Bedfordshire and Cambridgeshire
● Market Report 2023 Spring London
● Market Report 2023 Spring North East, and Yorkshire and The Humber
● Market Report 2023 Spring Northern Ireland
● Market Report 2023 Spring Scotland
● Market Report 2023 Spring Devon and Cornwall
● Market Report 2023 Spring Southern Home Counties
● Market Report 2023 Spring South East Home Counties
● Market Report 2023 Spring Southern
● Market Report 2023 Spring Thames Valley
● Market Report 2023 Spring West of England
● Market Report 2023 Spring West Midlands
● Market Report 2023 Spring North West
● Market Report 2023 Spring Wales
Contact us today
To see a full copy of The Guild's winter market report and for further guidance on the home moving process, take a look at the regional property market updates or get in touch with your local Guild Member today.

Read What Our
Customers Say
Having gone through Stevens estate agents for renting out a property and also selling a property I cannot recommend them enough. They are very efficient at answering questions and they ensured the sale of my property proceeded as quickly as possible making sure I was always kept up to date.

The landlord service is fantastic too and they maintained the rented out property so I didn't need to get involved even when problems did arise .

A fantastic , professional team who are always so helpful.
The team were really responsive to queries that we had regarding our purchase. Having dealt with a number of Estate Agents in the past I would rate Stevens as one of the best that we've worked with. Hannah was excellent at keeping us informed throughout.
Very thorough service, all queries promptly followed up and some additional small requests for instance dealing with house clearance and cleaning (because the sellers were not local) undertaken without additional charge.

A trouble free transaction, much appreciated.
Went the extra mile to aid our recent home purchase.

Always helpful person on the end of telephone.

Attention to personal detail, which does make you feel that you are important
I am extremely pleased with the service and care taken with Stevens Estate agents. They handled everything from valuation to completion which helped with the painful process of selling our mums house. Thanks to all the staff.