Regional Property Market Update Autumn 2023: North East, Yorkshire and the Humber
Posted on: Monday, September 11, 2023
---
---
Remarkable Resilience
Despite challenging economic conditions, the market remains resilient, in part due to motivated buyers still looking for correctly priced homes. Activity amongst first-time buyers is holding up well.
July and August are typically slow months for selling properties. Summer holidays, outdoor activities and children off school mean that our thoughts are elsewhere. In August we have historically seen an average month-on-month fall of 0.9% (Rightmove). This year the figure is higher at 1.9%, an indication of growing realism in the market and keen vendors pricing competitively to attract buyers. Despite the current softening in prices, average house prices in May were down just 2% on last September's high and still over 20% above pre-pandemic levels (Zoopla).
Mortgages
In light of improving inflation data and more positive forecasts for the UK economy, lenders have been cutting their fixed mortgage rates. The quarterly growth rate of mortgages approved has improved from the start of the year, with lending volumes 6.3% higher over the three months to the end of July than they were for the prior three months. Whilst current levels are higher than at the end of 2022 and early 2023, they are considerably lower than a year ago (Bank of England).
At 4.7% and 2.7%, annual property price growth in the North East, and Yorkshire and the Humber has moderated from 7.7% and 5.5% respectively at the start of the year. However, it remains in positive territory. Price growth is currently strongest in Calderdale, Northumberland and Newcastle upon Tyne.
The supply of properties is constrained, with the number of available properties 10% lower than the same time in 2019, in part preventing more significant price falls so far this year (Rightmove). Homes are selling more quickly, with the average time to secure a buyer standing at 55 days compared to 61 days in 2019 (Rightmove).
With 6.5% of homes for sale seeing cuts of over 5% to asking prices, a level that is 60% above the five-year average (Zoopla), buyers are becoming more price sensitive and the importance of pricing right the first time is paramount. Realistically priced homes are still seeing multiple prospective buyers.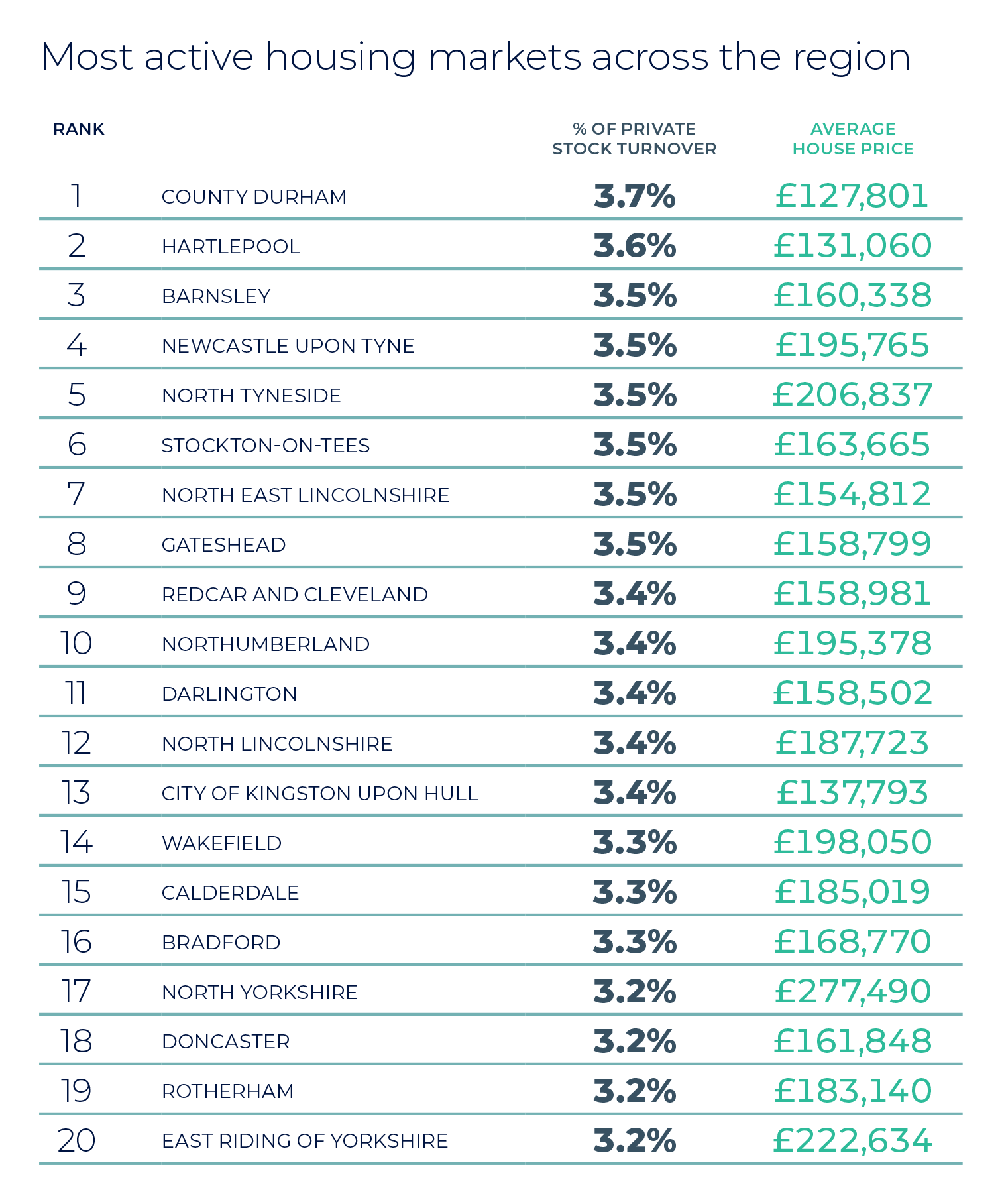 The sales market is proving resilient despite high mortgage rates and cost-of-living pressures. Average asking prices across the UK in Q2 2023 are higher than Q1, and up by 24% on 2019, with the gap between initial asking and exchanged prices similar to pre-pandemic levels (TwentyCi). The market has shifted in favour of buyers, with 70% of agents surveyed saying it is a buyer's market and just 3% saying sellers are more in control (Dataloft Inform Poll of Subscribers).
In light of higher mortgage rates and high living costs, sales volumes have taken a hit, with some people delaying moving or looking for smaller, more affordable homes. This means there continues to be different patterns across different parts of the market and different property types. There was stronger performance in more affordable markets such as Scotland and the North West, compared with more expensive areas such as London and the South East.

Contact us
Sell your property with your local expert this autumn. Contact your local Guild Member today.

Read What Our
Customers Say
Having gone through Stevens estate agents for renting out a property and also selling a property I cannot recommend them enough. They are very efficient at answering questions and they ensured the sale of my property proceeded as quickly as possible making sure I was always kept up to date.

The landlord service is fantastic too and they maintained the rented out property so I didn't need to get involved even when problems did arise .

A fantastic , professional team who are always so helpful.
The team were really responsive to queries that we had regarding our purchase. Having dealt with a number of Estate Agents in the past I would rate Stevens as one of the best that we've worked with. Hannah was excellent at keeping us informed throughout.
Very thorough service, all queries promptly followed up and some additional small requests for instance dealing with house clearance and cleaning (because the sellers were not local) undertaken without additional charge.

A trouble free transaction, much appreciated.
Went the extra mile to aid our recent home purchase.

Always helpful person on the end of telephone.

Attention to personal detail, which does make you feel that you are important
I am extremely pleased with the service and care taken with Stevens Estate agents. They handled everything from valuation to completion which helped with the painful process of selling our mums house. Thanks to all the staff.